In 2021 the JVA and AAU teamed up to create three new boys events as part of the JVA AAU Boys Volleyball Tournament Series to launch in the 2022-2023 season. The first event in the series, the 2022 Chitown Boys Challenge, was a huge success, hosting 484 teams from coast to coast at the McCormick Place for a competitive three days of competition. The positive experience spread quickly through the volleyball community, leading to a surge in registrations for 2023. Within the first week of registration, the event had already surpassed the number of teams registered in 2022.
The 2023 Chitown Boys Challenge presented by Nike officially made history, hosting 738 teams ages 12U-18U, becoming the second largest boys volleyball event in USA history, and the largest non national championship boys volleyball tournament.
Here are the top 8 Boys Events in USA History:
1. 2023 AAU Nationals- 953 teams
2. 2023 JVA/AAU Chi-Town- 738 teams
3. 2022 AAU Nationals – 665 teams
4. 2019 USAV Nationals- 615 teams
5. 2018 USAV Nationals- 578 teams
6. 2021 USAV Nationals- 557 teams
7. 2022 JVA/AAU Chi-Town- 484 teams
8. 2016 USAV Nationals- 462 teams
"The boys side of the game has been my life's work and to be able to run events like this is absolutely humbling," said JVA Director of Events, Adam Beck. "I also know that none of this is possible without all of the blood, sweat, & tears that everyone on this team puts in and their hard work and passion showed big time this weekend."
As men's college programs continue to be added, most recently University of Maryland Eastern Shore and Northern Kentucky University (both Division I programs), boys volleyball is growing rapidly in popularity, increasing the number of participants by 16.24% from 2022 – 2023 according to the latest NFHS participation data. Over
80 men's college programs
were in attendance at the Chitown Boys Challenge, looking for their next recruiting class. They couldn't have been at a better event to do just that, as the top boys volleyball clubs in the country were competing under one roof, with an impressive level of competition on championship day. View the results of each division
here
. All matches are archived and can be viewed on
BallerTV.com
Positive feedback continues to pour in through the post event survey, reading and valuing every response in order to improve the experience the following year.
"Overall, coming from California this is one our our favorite tournaments all year. It seems well run and it's fun to play different teams than we normally play."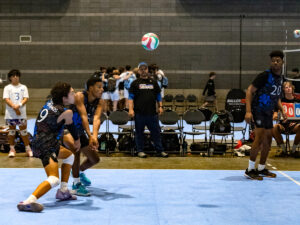 "This was a super fun event for our guys. The social media hype has had them excited for months. We were very excited to compete coming into the event, loved participating, and look forward to continuing to bring N.C. volleyball to JVA events. Thanks so much for having us!"
"Overall a very fun tournament. I thought it was well organized… Refs overall were accurate and did well. Glad we came and hope our club and team return next year."
We are thrilled to announce a new three day boys event in Indianapolis the weekend before Thanksgiving in 2024, and the Chitown Boys Challenge will now be a two day event taking place in mid-December of 2024. More information and exact dates will be released soon. Follow the JVA on instagram
@jvavolleyball
for the latest updates.